Another action-packed winter is over, and now comes spring and some big changes. I'm pleased to announce the launch of my new studio venture Paintbox Recording. I have partnered up with Mike P Falk, known to the Manitoba music community as a talented musician/producer and all-round excellent guy. Together we have put together a very artist-friendly and comfortable recording space on Shaftesbury Blvd at Grant Ave in Winnipeg. New photos and website are coming soon, we promise.
The studio is up and running, and the updated gear list is definitely worth a look. 
This week I've been working on a great project: the debut album from The Dirty Catfish Brass Band. We've been staying up late tracking their ferocious 9-piece shenanigans, eating burritos, and talking chord theory. Nine songs recorded mostly live-off-the-floor. The next few days we'll be overdubbing the piano and Hammond organ parts (which is nearly my favourite thing in the world) then adding vocals, extra percussion, and assorted yelling. The band kindly booked the CD release (Saturday June 28 – West End Cultural Centre) before booking studio time, so we gotta get this one finished pronto. Stand by to be crushed in the Brass Riot.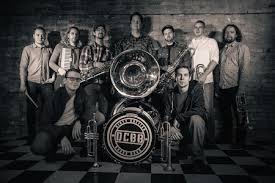 When I first moved to Winnipeg in the early eighties the hands-down coolest band in town was The Dub Rifles. They straddled the gaps between early punk, soul, ska and R&B, and were miles ahead of their time. Singer/guitarist Colin Bryce has become a great friend and we've been performing together in The Driving Wheel, his sweaty rockin' R&B combo for the past few years. This winter he decided the time has come to revisit The Dub Rifles (who broke up in 1984) for a retrospective CD re-issue titled "No Town No Country". We spent some time transferring recordings from multitrack tape, stereo tape, vinyl, cassette, hi-fi, lo-fi, – whatever was out there. It's all been assembled and otherwise refixicated into a complete look back at this seminal Winnipeg band. Look for it soon at discerning record stores or download it at Sundowning Sound.