Paintbox Recording is a comfortable artist-friendly studio in Winnipeg Canada.
Paintbox Recording is the studio headquarters of producer/engineer/musicians Lloyd Peterson and Mike P Falk. This is a great place to create and capture your music. The facility provides a creative private atmosphere, top-quality equipment, and most importantly the owners' extensive experience with all types of recording. Services include pre-production, album and demo recording, mixing, remote recording and co-writing.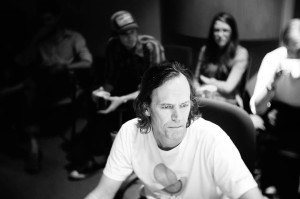 Features:
Top-quality equipment
Affordable rates (contact for a quote)
Manitoba Film & Music accreditation
In early 2014 the studio underwent extensive upgrades. New photos coming soon.
Control Room 19′ X 16′
Tracking Room 26′ X 18′
Isolation Room 9′ X 8′
Equipment List
Console
Yamaha PM2000 32 channel
Microphones
Advanced Audio C48
AKG C-414 B-ULS  [4]
AKG C-414 EB [2]
AKG C426 stereo
AKG C451 [2]
AKG C 460 B [2]
AKG D112
Audix D6
Beyerdynamic M88
BLUE Bluebird
BPM CR-10
BPM CR-4N
DPA 4099 
Fostex M80RP [2]
Josephson MP42 [2]
Neumann U87 [2]
Neumann KM184 [2]
Neumann TLM103 
Radial JDI passive DI [3 ch]
Royer R121 ribbon
Sennheiser MD 421
Sennheiser e609
Shure SM7b
Shure SM57 [3]
Pre-amps
API 3124  [4 ch]
Neve Portico 5012 [2 ch]
Sebatron VMP4000e [4 ch]
Universal Audio LA-610 tube pre/EQ/comp
Universal Audio 2-610 [2 ch]
Western Electric tube pre/mixer  [5]
Yamaha PM2000 [32 ch]
A/D/A Converters
SSL Alpha-Link Xlogic  [24 ch]
Dynamics
dBx 166 [2 ch]
Drawmer DL441 comp [4 ch]
Universal Audio T4 optical comp/limiter
UREI LA-3A [2]
UREI LA-22 [4 ch]
Valley People Dynamite 430 comp/gate [2 ch]
Monitors
Adam A7 powered
Tannoy Gold 12″ co-axial powered by Crown
Yamaha NS-10M powered by Crown
Outboard
Lexicon 300
Lexicon PCM60
Sony R7
Antares ATR-1 auto-tuner
Tube Amplifiers
Fender Deluxe II
Garnet Mohawk 12″ 15W
Gibson Hawk
Mesa Boogie mark I 12″ 60W
Peavey Classic 30 10″ 30W
Peavey Delta Blues 15″ 30W
Riviera 30W  w/ 2 X 12″ cabinet
Vox AC30
Electric Guitars
Danelectro
Fender Telecaster [2]
Fender lap slide
Fender Precision bass
Gibson L6 Deluxe
Gibson RD Artist
Guild T100D hollow body
Hagstrom Swede
Ibanez Les Paul
Targa oddball Japanese
Acoustic Instruments
Gibson J40 acoustic
Hammtone parlour-style
Matsuoka AM530 nylon string
Gold Tone 5-string banjo
assorted hand percussion
Effects
Analogman, Boss, Cry Baby, Danelectro, Diamond, Digitech, Electroharmonix, GKB Custom, HBE, MXR and more…
Drums
Gretsch early 70s
Gretsch Renown maple
Ludwig Acrylite
Pork Pie Custom
Rogers 70s
Snares by DW, Gretsch, Ludwig, Tama 
Cymbals by Zyldjian and Sabian
Keyboards
Petrof 7′ grand piano
Hammond L112 organ w/ Leslie 125 cabinet
Korg Poly 6 analog synth
Multivox organ
Roland RD-300sx weighted digital keyboard
Waldorf Blofeld synth
Remote Recording
Antelope Orion 32 channel A/D/A
ProTools 10 on iMac  OS X 10.5.8
Drawmer MC2.1 monitor controller
Dynaudio BM6 monitors powered by Hafler P3000
Rehearsal
Yamaha MG 12/4 mixer
Yamaha Q2031B stereo 31-band EQ
Crown D150A power amp
Yorkville E160 monitors