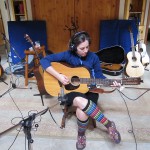 Cara Luft has been travelling throughout North America and Europe recently, and has commenced recording her next album. Bed tracks were recorded in Toronto at Canterbury Music, after which we embarked on some adventurous remote recording. Guitar overdubs were recorded in the chapel of a beautiful retreat centre in the Rocky Mountain foothills near Cochrane Alberta.
Next up is a couple weeks of vocal recording in the quaint little wood church in Darlingford Manitoba.  So all that time spent building and wiring portable racks for remote sessions has really paid off. The whole deal fits in the Sentra now. I'm goin' mobile… keep me movin'!
The album will be finished in the spring.